Team Profile
World Ranking: 17
Odds of Winning: 1000/1
Road To Qualification:
Romania beat out 29 other European nations to qualify for the world cup, losing out to Georgia in a playoff for Pool C. They will begin their campaign in Pool D with France, Ireland, Italy, and Canada.
Recent Results
Romania 16 – 21 Tonga
Edinburgh 31 – 16 Romania
Yorkshire Carnegie 10 – 10 Romania
Romania 23 – 0 Argentina Jaguars
Romania 43 – 3 Namibia
World Cup Pool Games:
| | | | | | |
| --- | --- | --- | --- | --- | --- |
| Date | Time | Team | v | Team | Stadium |
| Wed, 23 September 15 | 20:00 | France | v | Romania | The Olympic Stadium, London |
| Sunday, 27 September 15 | 16:45 | Ireland | v | Romania | Wembley Stadium, London |
| Tuesday, 6 October 15 |  16:45 | Canada | v | Romania | Olympic Stadium, London |
| Sunday, 11 October 15 |  14:30 | Italy | v | Romania | Sandy Park, Exeter |
Strengths
Weaknesses
Lack of flair in the backline
Little experience playing Tier 1 teams.
Key Players
Ion Paulică – An experience prop, Ion has played for Bath and London Irish, but now plies his trade in Perpignan. Paulică will be at the coalface all game working away at the oppositions front row.
Michael Wiringi  – This New Zealand-born fly half is expected to be one of the team's top performers, having had a crucial hand in leading Romania to their eventual victory in the World Rugby Nations Cup. He will strengthen Romania's traditionally weak backline.
Ovidiu Tonita – at 35 years old, this will be the number 8's fourth Rugby World Cup for Romania. Playing outside of Romania now for Provence, the forward will provide some much needed experience, and help to keep the newer players in line.

(video source: Julius Kartoum)
Injuries/Unlucky To Miss Out
The Romanian squad has remained largely injury-free in the lead up to the world cup.  A leg injury to Wiringi earlier in the year delayed his debut, but he's now match fit and ready for the World Cup. They will be pleased to be coming into the World Cup injury-free, as they lack the depth of talent that allows larger teams to cope.
Squad
Props:
Ion Paulică (Perpignan)
Mihai Lazăr (Castres)
Horațiu Pungea (Oyonnax)
Andrei Ursache (Carcassonne)
Alexandru Țăruș (Timișoara Saracens)
Hooker:
Eugen Căpățână (Timișoara Saracens)
Andrei Rădoi (Ealing – TimișoaraSaracens)Otar Turashvili (București – Colomiers)
Second Row:
Johannes Van Heerden (Baia Mare)
Marius Antonescu (Tarbes)
Valentin Ursache (Oyonnax)
Valentin Popîrlan (Timișoara Saracens)
Back Row:
Mihai Macovei (Massy – Colomiers)
Viorel lucaci (Steaua București)
Stelian Burcea (Timișoara Saracens)
Ovidiu Tonita (Provence)
Daniel Carpo (Coventry)
Scrum Half:
Tudorel Bratu (Dinamo)
Valentin Calafeteanu (Timișoara Saracens)
Florin Surugiu (CSM București)
Fly Half:
Dănuț Dumbravă (Steaua București)
Michael Wiringi (Baia Mare)
Centres:
Csaba Gál (Cluj)
Paula Kinikinilau (Timișoara Saracens)
Florin Vlaicu (CSM București)
Back 3:
Adrian Apostol (Baia Mare)
Florin Ionita (Steaua București)
Ionut Botezatu (Baia Mare)
Mădălin Lemnaru (Timișoara Saracens)
Cătălin Fercu (Saracens)
Sabin Stratila (Steaua București)
---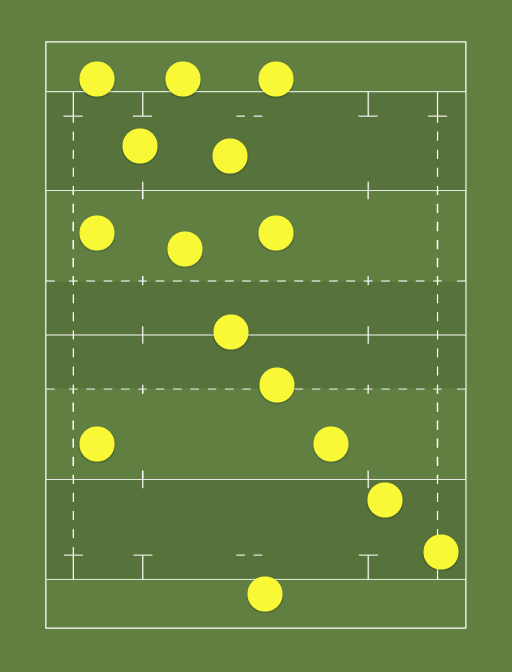 Summary
Overall, with what is now an experienced squad (average age of 28, and an average of 38 caps per player) Romania will look to beat a Canada team that has been on poor form in the lead up to the World Cup. France and Ireland will be out of their reach, but there's a feeling that Romania will also target Italy, with the goal of proving that tier2 nations can hold their own against the bottom tier of the 6 nations. Above all, the Romanian team is BIG. All four opposing squads will be tender the day after they meet Romania, who will be a handful at every impact and scrum. Expect some massive collisions if anyone decides to try and run through them.
Comments
comments